The world reacted with horror to the terrorist atrocities in Paris last Friday, and then with shock as it was revealed at least one of the killers had slipped into Europe posing as a refugee with a fake Syrian passport. Conscious that this discovery would inflict reputational damage on the already unpopular wave of migrants washing over Europe, a senior United Nations official has claimed the Islamic State is deliberately trying to play up for the European conservative right.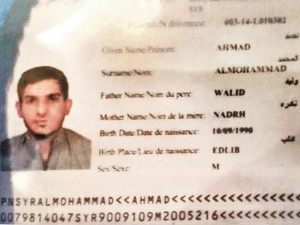 A fake Syrian passport found at the Paris terror attack
UN High Commission for Refugees (UNHCR) chief António Guterres made the comments earlier this week when he said fake Syrian passports had been carried into battle by the jihadists deliberately as they wanted to "set Europeans against refugees". As commissioner, it is Mr. Guterres's job to help form opinion in favour of migrants, and ease the passage of third world migrants into the first world.
Speaking in Serbia, commissioner Guterres said of the circumstances of the attack and the found passport:
"The passport was left to be seen, which means that the Daesh also has, as a strategy, to put the refugees in the spotlight … this is also designed to try to force Europe to close its borders". He continued to say that things would have been "completely different" had the European Union set up refugee welcome centres along their borders, as he has long been calling for.
Suggesting that Syrian jihadists murdering civilians at French rock concerts were in fact ardent Eurosceptics who were working to make their own infiltration of Europe harder, Mr. Guterres said: "It is clear that the Daesh strategy is not only to set Europeans against refugees, but within Europe, to set citizen against citizen within communities, community against community within countries, and country against country in the Union".
If Mr. Guterres's conspiracy theory turns out to be correct, it has worked remarkably well. While right-wing politicians have faced ridicule in the past months for suggesting the influx of migrants who have received only the most cursory background checks resembles a security risk, political parties in favour of controlling national borders are riding high on the back of the European migrant crisis.
The Sweden Democrats, an insurgent political force in a system which has created a grand coalition of left and right parties with the express intention of preventing the Democrats from exerting any political power whatsoever has reached new heights of popularity this week. As reported by Breitbart London yesterday, the latest authoritative opinion poll shows the party well ahead of all competitors, five points clear of the left wing Social Democrats.
The Syrian passport revelation may have gone some way to boost the Sweden Democrats and other similar parties including the Alternative For Germany, and Danish People's Party which are also polling historically well. Europe has been flooded with so-called 'refugees' this year, with a German police spokesman admitting "Almost without exception, every refugee pretends to be a Syrian when in fact, many come from other countries, even from sub-Saharan Africa".