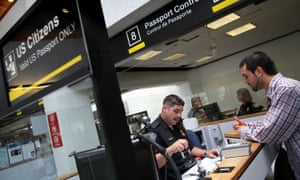 The US is giving British citizens the chance to bypass long airport immigration queues – if they agree to an extensive vetting procedure and are prepared to pay for it.
Travellers who apply for the enhanced vetting, including an interview, will be eligible to use special gates at US airports. According to the US, the new process cuts down passport control waiting times by about 70%.
The system is already available to German, Dutch and South Korean citizens, among others.
The inclusion of British citizens was announced at a travel industry exhibition in London by the US ambassador Matthew Barzun, US customs and border protection commissioner Gil Kerlikowske and the director-general of the UK border force, Sir Charles Montgomery.
Barzun said: "The special relationship deserves a special entry system that makes it quicker and easier for frequent travellers to do business, visit family, and enjoy our great countries."
The system may appeal to regular travellers to the US, where passport control delays are common if several international flights have just landed.
From 3 December, UK citizens can apply for what the US calls its "global entry system". To register, travellers will first have to apply to the Home Office and pay a £42 processing fee. If the applicant passes UK vetting, they will receive an access code to use when applying for the Global Entry scheme, which costs $100 (£65) for five years. The applicant then faces an interview with a US customs and border protection official.
Kerlikowske said the scheme – currently in use at 46 US airports – would enhance security as well as make travel between the two countries easier.
The UK has a reciprocal system, "registered traveller", for US citizens, which allows them to use e-gates at UK airports. The service costs £70 a year.